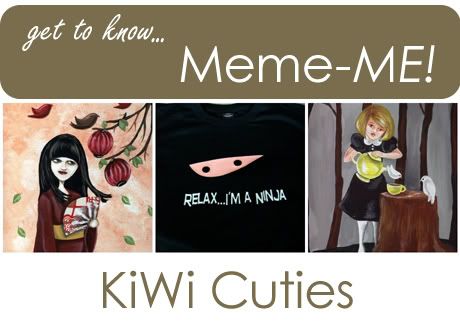 This week's feature meme is brought to you by
KiWiCuties
an Etsy shop that sells amazing art and fun screenprinted tees. We thought we'd as them the top 5 things that are on their to-do list and here's how they responded:
The top 5 'To do' items for Kiwi, of KiWi Cuties fame:
5. Dolls - I'm working on prototypes for creating three dimensional ninjas, zombies, pirates, what-have-ya. Who
doesn't want to cuddle a ninja?
4. Jewelry - I've dabbled in the past with jewelry but I'm currently working on turning some of my paintings into
pendants. Since I don't have a shrink ray (that's all "Johnny Snow"), this is turning into a lot of work.
3. Advertising - Recently, I took a stab at using Project Wonderful for some blog-vertising. I need to step
up my efforts and maybe look to doing some advertising on some shop sites.
2. PRINT - Between the start of show season and holiday shopping, I always always get overwhelmed. This
year, I'm going to try to stay ahead of the game....or at least keep pace with the game.
1. Same thing we do every night....Try To Take Over The World!