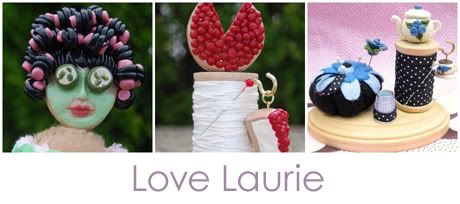 This week's feature meme is by
LoveLaurie
a shop owner on Etsy that sells polymer clay decorated sewing items. Many of you may recognize her from the first photo as it is her forum avatar over at Etsy so be sure to give her a shout out if you see her around! Anyways, we asked Laurie to give us the questions and the answers to the top 5 questions that people like to ask her about herself, her work, her life, etc...". Here's what she came up with:
1. Is Laurie your real name, or is it Laura?
My legal name is Laurie.
2. Why don't you sell this stuff?
Up until 2 months ago, the answer was " I don't know, do you really think people would buy it?" Now, the answer is "I do! Would you like my business card?" lol!
3. How many kids do you have?
I have 2 teenagers ages 14 and 17.
4. Wow, you haven't lost that accent yet?
You can't take the Boston out of the girl, and why would you want to?
5. What made you think of making these??
It just sort of happens. My mind is sort of like Willy Wonka's Factory, a strange but fascinating place, lol.
If you're reading this you've been tagged to play too!