Can you just imagine how much time, attention and detail goes into one of these gorgeous pieces? These simply stunning works of art can be found at
Revelate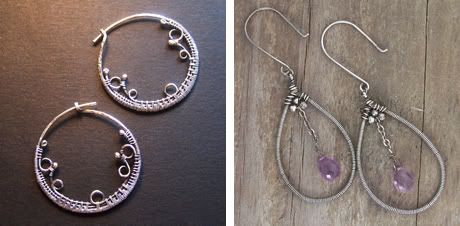 1. Tell us about yourself in one sentence.

I am an artist of life and creation.
2. Your work is really amazing are you self taught or did you take classes?

Thank you! I am a self taught artist. The only classes I took for art were in high school. Learning to make jewellery is something that I did completely on my own.
3. I read in your profile that you live in Northern Canada. Does living there influence your work?
Yes, it greatly influences my work. The environment around me inspires me greatly and keeps me focused on my dreams and aspirations. It is so peaceful and rejuvenating to be able to hike through the woods.
4. What is your favorite piece in your shop and why?

My favourite piece is called "The High Priestess".
http://www.etsy.com/view_listing.php?listing_id=9934602
It is one of the first really complicated pieces I completed and just recently it was awarded first place in The Northern Juried Art Show. (http://www.northernjuriedartshow.ca/)
5. Is your work found any where else besides Etsy?
I do have a website off of Etsy at http://www.revelationsnorth.com
You can find my work in Flin Flon, Manitoba at Peachy Keen on Main Street and also in The Pas, Manitoba at the Sam Waller Museum.
6. Anything else you want us to know?

Thanks for the interview. And to all the aspiring artists and working artists out there.. don't stop, keep loving what you do :)