Is it really possible for adorable clothing, plushies, brooches and more to all co-exist under one roof? This sure seems to be the case at
Melon1
.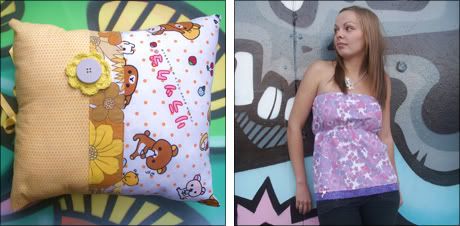 1. Tell us a bit about yourself and where you are from.
Hi, i m Ellen and i love everything bright, colourful, pink sparkly and beautiful! I spend my days creating kooky cute clothing,plushies and accessories useing sweet recycled vintage and kawaii fabrics......................the rest of my time is spent tending to my lovely familly-two cheeky boys and a handsome husband!!, cooking, going to gigs, collecting handmade/vinyl art toys, taking photos of everything......and dreaming of what colour to do my hair next!!!!.
I run a small label, 'Melon', and my head is always bubbling with new ideas and creations-theres never enough time in a day!!
I ve always been obbsessed with colour and design, its my life!!!! I studied 'Surface Pattern Design' at South Notts college and Graduated from Nottingham Trent University in 1999 with a degree in textiles.
2. When and why did you start making plushies?
My love/obsession with plush toys began about 2 years ago. My husband,Steve,(a graffiti artist) started buying vinyl art toys (Dunnys) from the Kid Robot online store, at the same time i started noticing the plush variety!...and fell in love!
I was really inspired by the charaters, ideas and fabrics being used- and the fact that these were aimed at an adult market as 'one off' or 'limited edition' art peices. Something really unique and special that hasnt been mass produced.
Being constantly surrounded by the graffiti characters being sketched and painted by Steve and my brother Tom ( 'Knittingworldcupsquad' ), and the mountains of, amazing creations and pictures being doodled by my two little boys, gave me MASSIVE inspiration!................so i decided to get on my sewing machine and sew a few of these characters into plushies!.....and thats where it all began!.........................
3. Do you like to make anything besides plushies?
Along side the plushies i also make clothing and acsserories eg: babydoll tops and skirts, brooches and bags. I started making these mainly for myself when i found a peice of pretty fabric, got excited and fancied a skirt or top made from it! I love doing custom ,so if you have ideas let me know!
An idea i m working on is that you will be able to buy a skirt, brooch and plushie all made from the same fabric, to match! cute eh?!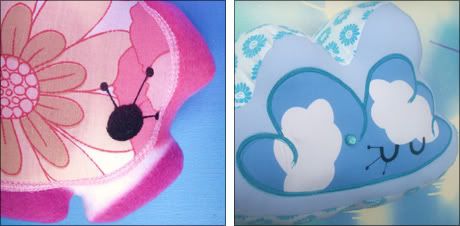 4. I noticed that you like to use recycled fabrics. They are all so colorful and fun where do you find them? or is this a secret?
Most of my recycled fabrics come from charity shops, i LOVE having a good root around and get soooo excited if i find a vintage flowery duvet cover or pillow case!!! ...or anything spotty or stripey! I also buy 2nd hand (good quality)fleecy jumpers and blankets, these are great to make plushies out of. Some of the fabric i use is new eg: kawaii japanese fabrics or just sweet unusual fabrics/fleeces that i cant resist!
5. You've been on Etsy for almost a year now. Is there anything you've learned and would like to share with other sellers?
I joined Etsy as a buyer and after a while thought i should try selling! I was really excited about having my own little online shop! I love it- although i ve learned to be very patient about sales!
Thank you for taking the time to read this, i hope my creations make you smile!
6. Anything else you might want to add?
I'm very proud to announce that a handfull Melon plushies are taking part in 'Crammed Organisms- the worlds largest plush show' http://www.crammedorganisms.com/artists.html throughout June in St louis, USA!!!!!- very excited!