I'm willing to bet you've got your eyes on one of
magicbeanbuyer's
sweet little dumplin's and if not you do now!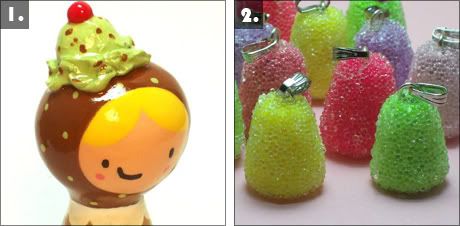 1. Chocolate chip mint dumplin
2. Sugary gumdrop pendants
1. Tell us 3 random things about you that are non-craft related.
I like to drink the juice from the pickle jar, I'm obsessed with the color green, and my dream is to be a crazy cat lady.
2. Your little dumplin's are so unique. Is there a story behind how you started making them?
For a while now, I had been thinking that I wanted to start making some kind of figurine line. I wanted to create something that might appeal to more people, since not everyone wears jewelry. I made lots of "prototypes" with different techniques until my current style emerged and stuck!
3. Do you have a signature or favorite dumplin?
It seems like everytime I make a new dumplin I say to myself "This is the one..this is my favorite..definately". I'd say at this very minute as we speak I'm really a fan of the kitty on the head dumplins. I made one for a customer recently that was fashioned to look like her friend's kitty and I think it came out so adorable. I can't wait until I have time to make more.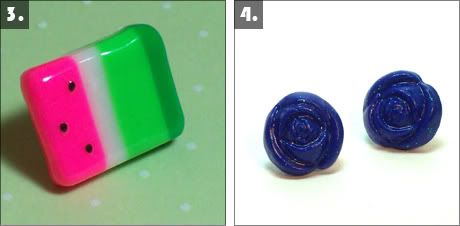 3. Watermelon pin
4. Navy sparkle rosebud posts
4. How long does it usually take you to create an entire piece?

A lot of people ask me that. I'm so terrible at timing myself. Especially since I won't make a Lil Dumplin from start to finish in one sitting. I'd have to say...minus the breaks I take and my full-time job getting in the way (argh..) one Lil Dumplin can take me a minimum of two days.
5. What is your favorite thing about working with polymer clay?
Polymer clay is awesome! I'm going to say that my favoite part of working with pc is that it's non-fussy. Meaning..it doesn't dry out, it's easy to bake and it's easy to paint. I like that it's pretty hard to mess up. No measuring of anything..no intricate cooktimes or fancy gizmos needed. I like things simple and easy to use!
6. Anything else you might want to add?

"Super Sculpey" (the tan clay in the green and white rectangle box) is my new best friend. The texture and durability is amazing. If you haven't tried it yet, I highly recommend it! Also...never underestimate the power of the toothpick.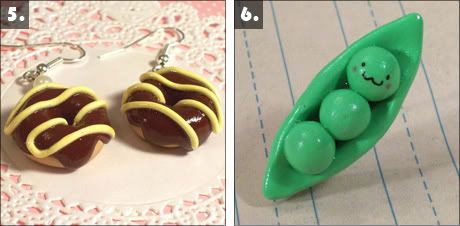 5. Buttercream striped doughnut earrings
6. P is for pea pod pin