Beautiful jewelry with a japanese flair. Meet the sweet gal behind the great shop
Auryndesign
.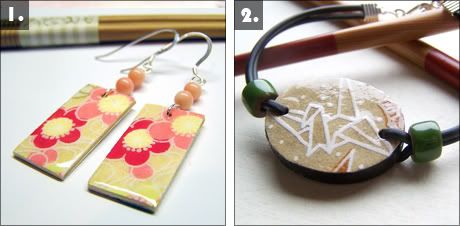 1.
Floral Carnival Chiyogami Earrings
1. Describe yourself in 10 words or less.
Artistic, Creative, Intuitive, Resourceful, Critical, Introverted, Liberal, Empathetic, Sensitive
2. Your work is beautiful. Do you have a signature piece?
The piece that started it all for me is the pendant in my avatar and banner with the print of the sumi-e bird painting - I've sold more of it than any other piece (both on and off Etsy). Next, I'd call my chiyogami bracelets signature - they are new but I'm really in love with making them!
3. I love the idea of the "Custom Kanji Pendant". Where did you learn to write Kanji?
I've sold a couple of my custom Kanji pendants - they are a lot of fun. I learned the art of sumi-e painting and Shodo calligraphy in art school and learned the Kanji symbols themselves in Japanese language classes. I combined the two to make the jewelry pieces I now sell. The prints and originals also decorate my home!
4. Where else can find your work? (Flickr, Myspace, Indiepublic, etc...)
5. Are there any Etsy sellers that you would love to meet?
There are so many talented Etsians - off the top of my head I'd love to meet Komodokat, Peachcult, Daisycakessoap, Stoopidgerl, HerRoyalMajestyBags, Mixedspecies, ScotiaMade...