Successful as both a mom and a seller! Meet Steph from
SoCalledMommy
and find out how she manages time for crafting and for her family.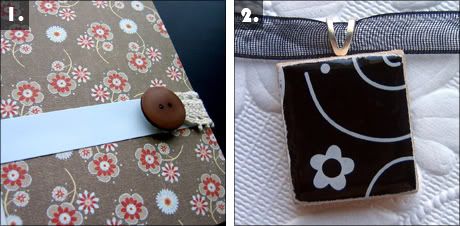 1.
Decorated notebook
2.
White flower on black scrabble necklace
1. What are the top 3 things you love and hate about your craft?
---I love:
1) Creating things that I enjoy
2) Getting the "validation" that someone else likes something enough to purchase it
3) Hearing that a buyer loved their purchase
---I hate:
1) Working on the "business side" (finding places to promote, etc)
2) Writing descriptions for my items...I can make them, but I get stuck writing about them.
3) Still feeling like I don't have a real balance between all the things I need to do
2. Is it difficult for you manage your time as both a mother and a seller?
Sure, because it seems that whatever I'm doing, I feel like I should be doing something else. I'm able to do some crafting and computer work while my girls are sleeping, and after their in bed, and I get to sneak in a little time during the day when they're playing nicely. We'll see how that all changes when #3 comes! I want to feel like my kids are getting enough of my time too.
3. I noticed that your husband has an Etsy shop as well do you help each other promote? Is there any sense of competition between you two?
We like to compare how many hearts we've gotten in a day, or who had the most recent sale, but it's all fun. I think our items are different enough that there's no real competition that way. And since our names are so similar, I think that whenever either of us is posting in the forums, we're also helping the other.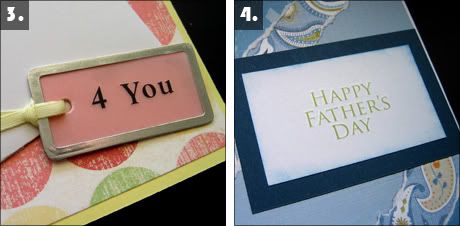 3.
Pink and yellow gift card holder
4.
Blue Father's day card
4. Where else can we find your work? (Flickr, Myspace, Indiepublic, etc…)
http://flickr.com/photos/socalledmommy
5. What's one piece of advice that you would give a new seller?
Don't compare yourself to other sellers, but do take their advice.
6. Anything to add?
I've just had so much fun on Etsy in my 7 1/2 months here. Between meeting some great people, selling some of my items, and purchasing some other fabulous ones, it's been a great experience.
5.
I'm blue, and I miss u
6.
Monogrammed Cards